Louie and Kimberlee are founding members of Montana's hottest Texas swing band Western Union Swing Band (Texas Swing) with bandmates David Horgan and Beth Lo from one of Montana's most renowned jazz and R&B bands-the Big Sky Mudflaps. They had the distinction of being the only Montana band to play the Montana Folk Festival (July 2016) as well as opened for Marty Stewart (Sept 2015) and Colorado's renowned Hot Rize (July 2015).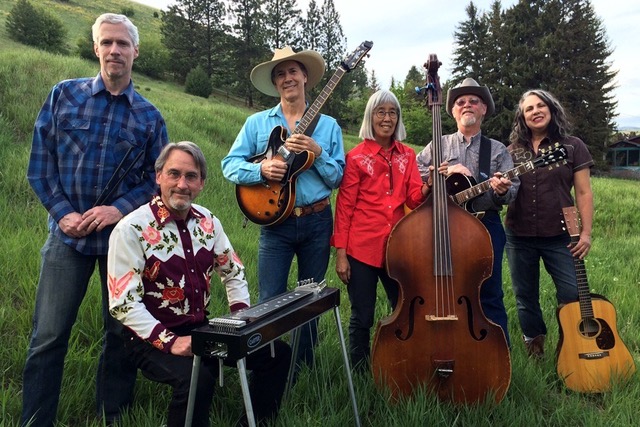 Where jazz meets country, Western Union is  Montana's favorite "countrypolitan" western swing band, specializing in classic Texas Swing &  Honky-Tonk music. With electric and acoustic guitars, standup bass, pedal steel guitar, and drums –- plus sharp-as-a-tack lead vocals and vocal harmonies — Western Union delivers the true-blue sound of grassroots America.
Featuring veteran musicians who have graced every stage from the Longhorn Ballroom in Dallas, Texas to Trixi's Antler Saloon in Ovando, Montana, this band delivers country music the way it was meant to sound. Covering the best of the classic Western repertoire along with their own sizzling and swinging original tunes, Western Union gets the job done every time. You're guaranteed to be stompin' your feet, clappin' your hands, and dancin' your shoes off." Butte Folk Festival 2016
Members: Louie Bond – guitar/vocals, Kimberlee Carlson– vocals/rhythm guitar, DR Halsell – guitar/vocals, David Horgan – pedal steel guitar/vocals, Beth Lo –bass/vocals, Rich Brinkman – drums/vocals. See Bios below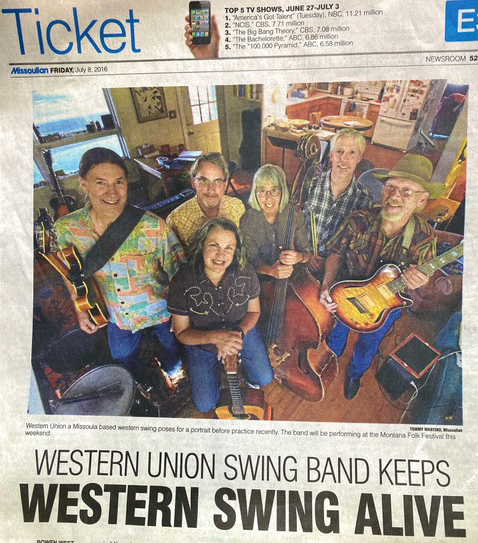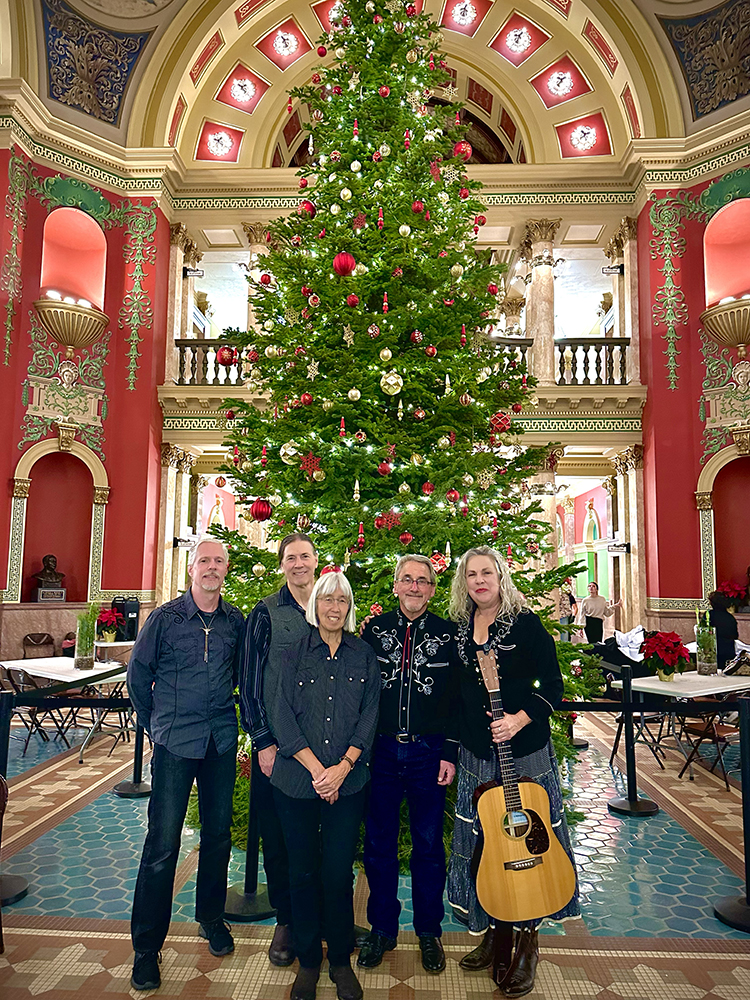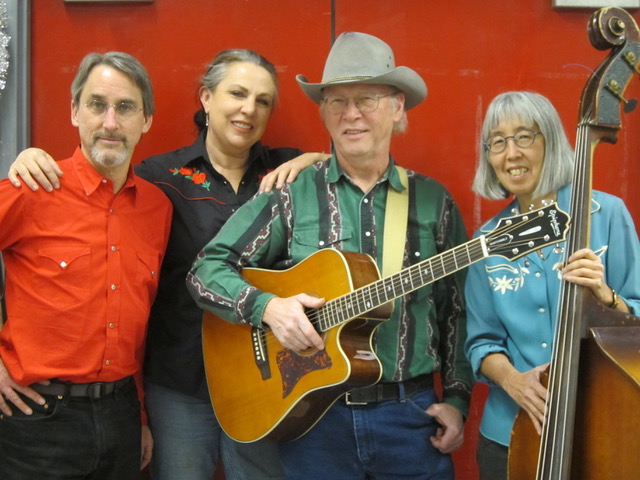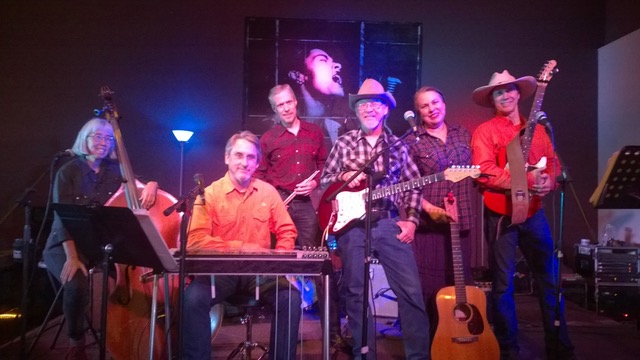 Check us out on Facebook
---
About the Musicians
Louie Bond-Guitar/Vocals
Louie Bond was born in Miami, Oklahoma, and began playing guitar in 1965 at the age of 16 and has been playing guitar professionally for over 60 years. He discovered Montana on a road gig and moved to Missoula in 1974. He worked in Dallas playing 5-6 nights a week at the internationally famous western swing venue the Longhorn Ballroom. Louie has opened for and backed up many famous country stars, including Bakersfield artists David Frizell, Lawanda Lindsay, Tony Booth, Buck Owens, and his son Buddy Allen in the 1970s as well as Restless Heart, Sawyer Brown, Bobby Bare, Ferlin Husley, Roy Head and Vern Gosdin. Along with Western Union, he performs regularly with his band/duo.
Kimberlee Carlson-Vocals/Rhythm Guitar
Kimberlee Carlson, from Odessa, Texas, has been singing jazz and swing since the early 1980s. During the 80's and early '90s, she performed and toured internationally with the Los Angeles band Swingstreet and fronted her own jazz quartet in Los Angeles performing at various jazz/cabaret venues such as Vine Street Bar and Grill. She was featured in several Las Vegas reviews as a dancer and lead singer in the 1980s in NYC and Los Angeles. She moved to Montana in 2007. She has been featured annually at Missoula's jazz festival Jazzoula since 2012. She performs regularly in Western Montana with her jazz trio.
David Horgan-Steel Guitar/Vocals
David Horgan grew up in Reno, Nevada, and played some of his earliest gigs in casino lounges. He was in a number of bands in the Bay Area, before moving to Montana in 1975. Besides Western Union, he is a member of the Big Sky Mudflaps, Salsa Loca, the Ed Norton Big Band, the Country Kings, and several other ensembles, playing guitar, pedal steel guitar, and piano. He and his wife, bassist Beth Lo, also frequently perform as a jazz duo around western Montana.
Beth Lo-Bass/Vocals
Beth Lo was born and raised in Indiana and came to Missoula in the early 1970s to study art with ceramicist Rudy Autio. She has been a Professor of Art at the University of Montana since 1985. Beth plays both upright and electric bass in several bands in addition to Western Union, including the Big Sky Mudflaps and Salsa Loca, as well as with guitarist David Horgan in duo and trio settings.
DR Halsell
Born into a pioneer Texas cattle ranching family, DR's parents shared awareness of the importance of music. He was encouraged to pick up an instrument early on. He has lived in Western Montana since 1972 with extended stays in Alaska, Washington, California, and Nevada where he pursued his career as a professional guitarist. Proficient in many styles and genres, he is a graduate of the Music Institute in Los Angeles, California. DR has been playing professionally for 50 years and now enjoys playing locally in Missoula, Montana.